For more details on parties and groups, please contact us.
We offer a group rate for a minimum of 15 children. This is ideal for nursery/school visits.
Current prices for groups include an accompanying adult's admission for just £8per child.
See below photo for our basic party options.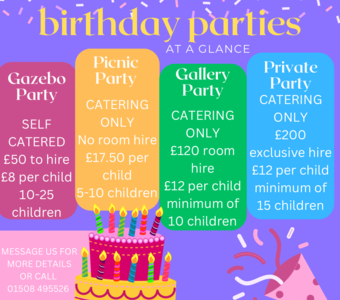 What sort of parties do you offer? How much is a party?
Picnic Party – hosts 5-10 children at a cost of £17.50 per child. This includes the child's admission and food in picnic boxes, with an accompanying adult's admission. Available 11-1 or 2-4 on weekends.
There is no room hire charge, as you do not get a designated room. Picnic parties are help at the end of the conservatories.
Gallery Party – hosts a minimum of 10 children and maximum of 40 with a cost of £120 room hire for use of our upstairs party room and £12 per child. This price per head includes the child and one adult's admission and the child's food served as a cold buffet. Available 11-1 or 2-4 on weekends.
Gazebo Party – hosts 10-25 children, costs £50 to hire and £8 per child. This is a self-catered option, meaning we will not provide any food. The gazebo in the paddock will be cordoned off for the party, but general public will still have access to the gokarts and wendy houses. Times flexible (typically 11-1 or 2-4) any day of the week (excluding mondays during term time)
Private Hire – hosts a minimum of 15 children with no maximum as we can serve food in a different area if larger than 40, priced at £200 for exclusive hire and £12 per child the same as the gallery party. All areas of the Playbarn will be open, with the exception of the farm which is likely to be open but cannot be guaranteed. Available 4-6pm on weekends.
What food do the children get?
Food for all parties include sandwiches, crisps, rice krispie cakes, buffet sausage rolls, vegetable sticks, cheese cubes and a dessert of either yoghurts or ice creams (chosen by yourself and the whole party gets the same) Sandwich choices include cheese/ham/jam/tuna mayo/egg mayo/ honey/cream cheese, and is available on white or brown bread (or a mixture if preferred). We ask that you choose 2-3 fillings and everyone gets the variety. We also cater for allergies so please do let us know of any special dietary requirements.
For picnic parties, you are allowed to take individual sandwich orders for each child.
Can we bring food for adults?
For Catered parties – No.
We also cater to adults in the form of sandwich or cake trays, both costing £20 each and serving approximately 10-12 adults. The sandwich tray is a platter served with salad and crisps, the cake trays will include an assortment of homemade cakes and biscuits.
For Self-Catered – Yes.
It is beneficial for us to know if adults will be catered for or not to allow for us to order/prep food accordingly.
What does the party involve?
The routine of each party is typically 45 minutes play, followed by food and singing happy birthday, and then the children usually have around another 45 minutes play once this is done. In this time, we are able to cut and wrap your cake for party bags.
Self-Catered party routines are totally up to the parent, though this is the structure we recommend to allow for plenty of time to set up and clean down.
What should I bring?
Cake and party bags must be provided by yourself, but we ask that you do not bring a knife or lighter/matches for safety purposes (we will provide these to ensure they are handled in the safest way possible)
You're welcome to bring buntings and banners etc for decorating the room/area.
We no longer allow balloons for the concern of our animals' safety.
Cups plates and table cloths will be provided for catered parties, but you're welcome to bring your own if you'd like them to match a theme.
For self catered parties, only cleaning supplies are provided. Parents will need to bring cups and plates, table cloths and drinks (or jugs for squash – which we can fill with water)
We do not allow any alcohol on site, so please do not bring this for adults at your self catered party.
Please note that we cannot heat/cook any food for you at a self-catered party.
Do I have to book a party?
Yes, we do not allow unofficial birthday gatherings because we are a party centre. You're welcome to visit the Playbarn as a group but we cannot permit presentation of a birthday cake, singing happy birthday and blowing out of candles if the party has not been booked by a member of staff.
For groups of more than 15 children we do offer a reduced rate, so we do still recommend booking this.
Can we self-cater?
The gazebo party is currently the only self-catering option. In certain situations, such as multiple complicated/strict allergies or severe weather conditions, we can arrange an agreement with the owner for you to self-cater for other party options. This must still be booked in officially with a member of staff.
Can I book a party for a weekday?
Mid-week parties are less common at the moment, and the booking would need to be approved to check that we have the staff available to cater to your party.
Self-catered parties can take place on weekdays without approval from higher staff, as we do not need to provide anything extra for this.
How much will my party cost?
Below is a table to help you with approximate costs of parties, depending on how many children you have attending. These prices don't account for any extras such as a drinks tab, adult food or additional adults.
| | | | | | | |
| --- | --- | --- | --- | --- | --- | --- |
| | 5 | 10 | 15 | 20 | 25 | 30 |
| Picnic | £87.50 | £175 | X | X | X | X |
| Gazebo | X | £130 | £170 | £210 | £260 | X |
| Gallery | X | £240 | £300 | £360 | £420 | £480 |
| Private | X | X | £380 | £440 | £500 | £560 |